Findings come as health regulators gear up for another crackdown on vape products
About half of U.S. adults say vapes and cigarettes are equally harmful to people's health.
Most people who vape regularly have been doing so since before the pandemic, nearly 2 in 5 saying they now use e-cigarettes more often than they did beforehand.
Adults are largely in favor of federal and state crackdowns on vape manufacturers.
A quarter of adults who vape regularly picked up the habit during the pandemic, and many are smoking too, according to a new Morning Consult survey that comes as health regulators prepare to rein in e-cigarette manufacturers amid a surge in sales but a dip in tobacco use and vaping rates.
Policymakers have been playing cat-and-mouse with e-cigarette manufacturers for years. In 2020, following public outcry over a surge in youth vaping — and an outbreak of mysterious lung illnesses that were ultimately tied to vaping THC — the Food and Drug Administration stepped up its enforcement on vape makers. This month, meanwhile, Congress plugged a loophole in those rules that allowed some manufacturers to evade FDA regulation by using synthetic nicotine rather than nicotine derived from tobacco.
E-cigarette sales have exploded over the past four years, even as U.S. vaping rates jumped and then more recently began to trend downward, including among teenagers. The estimated share of high schoolers who vape, for example, fell from 27.5% in 2019 to 11.3% in 2021, when many schools were still facing disruptions from COVID-19, meaning those rates may not be directly comparable. Meanwhile, 3.7% of adults vaped in 2020, down slightly from the year before.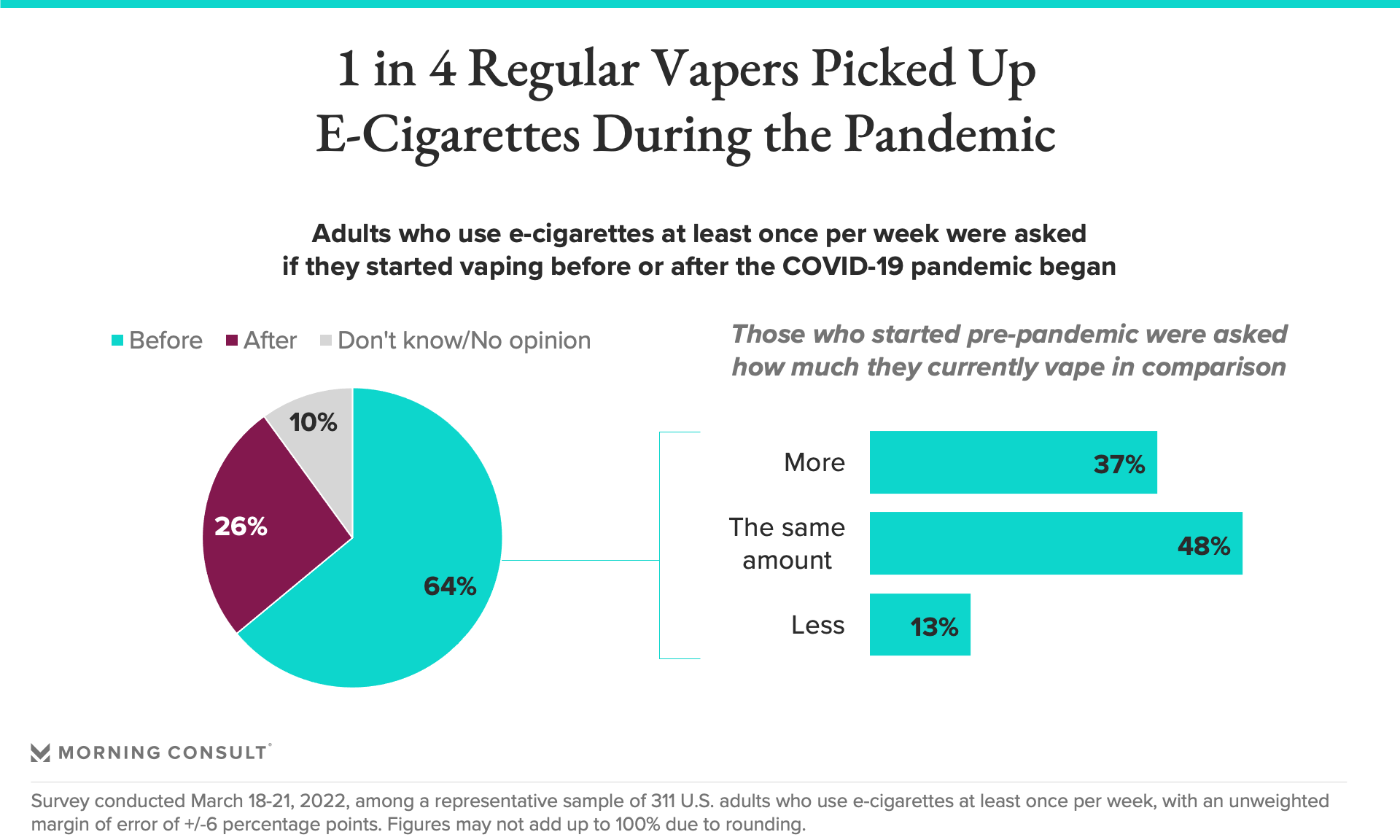 Public says vapes are as harmful as cigarettes, despite potential as tool to quit smoking
The new findings offer some clues on the apparent paradox, in addition to shedding light on public perceptions of vaping as an alternative to smoking traditional cigarettes. Among adults who vape regularly and started doing so before the pandemic, 37% said they use e-cigarettes more now than before the COVID-19 crisis began, and another 48% are vaping the same amount.
The survey underscores "the importance for FDA to assert its jurisdiction regulating the product, how it's marketed and what consumers are informed," said Matthew Myers, president of the Campaign for Tobacco-Free Kids, an anti-smoking advocacy group.
Further, while the vaping industry says their products are smoking cessation tools — and indeed, Juul Labs Inc. has tried to clean up its image after facing a flurry of lawsuits claiming it targeted children by using fruity flavors and snappy marketing — the survey shows the public isn't buying it.
Adults reported similar views of traditional and e-cigarettes, with roughly 7 in 10 saying they have an unfavorable view of both. Meanwhile, the public was most likely to say vapes and cigarettes are equally harmful to people's health, at 52%, with another 16% saying e-cigarettes are worse and 14% saying traditional cigarettes are worse.
Perhaps unsurprisingly, people who use e-cigarettes regularly (at least once per week) were more likely to say vapes aren't as bad for one's health as traditional cigarettes.
"E-cigarettes have some promise as a smoking alternative, but they aren't some incredibly powerful magic bullet," said Eric Lindblom, a former official at the FDA's Center for Tobacco Products who is now a senior scholar at the Georgetown University Law Center's O'Neill Institute for National and Global Health Law.
Gaby Galvin – Morning Consult – 2022-03-24.